In our experience, the stickers that you download the best printing format of 10x10 centimeters or 15x15 centimeters. Stickers smaller format difficult to see on the doors, and more - it's too big. It is desirable to have stickers printed and cut corners to white corners were semicircular.
The average cost of printing one label - about $ 0.15.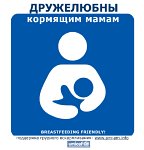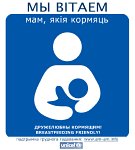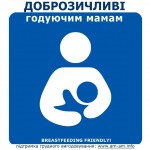 Questions about labels
I would like to add your contact details on the label, can you?
Yes of course. Add your contact information at the bottom of stickers - a great way to create local support groups to promote their information services, to declare itself!
I would like to move the text labels, can you?
Some users suggest: "Move all the text on top of the white box, so that the letters do not climb on the blue background '. We did not do this consciously, and for good reason.
The label is designed to quickly create an emotional attitude from a passerby or visitor of any institution. Reading a word much more "economical" and easier for people. So the first word should be concise, expressing the emotional component, with primary and dominant idea of ​​this sticker.
"Breastfeeding" in the label already strongly emphasized the visual image (lactating women), so in addition to focus on this is needed. By moving the entire phrase on a white background and semantic shifts the emphasis is extended phrase needs more time to her awareness.
I want to translate the label into another language - how to do it?
Just send us your order or leave a message in the comments! We are happy to do all the option stickers! We are very pleased translations into Ukrainian, Kazakh and other languages ​​of the former Soviet region!
***
See also: