On the border of mainland China to Hong Kong took action to promote breastfeeding. On the street of the city of Shenzhen reached girl in bikini with placards on which were written slogans calling not to buy food mix, and feed their children breast milk.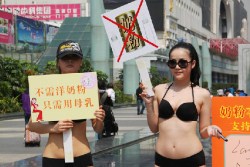 After the recent activation in Hong Kong so-called parallel traders who bought baby food for resale on the mainland, the Chinese government has introduced new, stricter rules export products had been arrested in the first three days of the raid 25 offenders.
Obsession use of powdered milk in China is considered to be the result of promotional campaigns of manufacturers, which are being advocated infant feeding mixtures and not breast milk.
Source: CN-News.ru - China News